Reading Buddies and Math Buddies are coming fall 2023! Promote your child's love of books and reading, or provide them with additional math and numeracy support. Students in Grades 1-6 will be paired with high school volunteers for ten 1-hour sessions in either Reading (English or French) or Math.
Reading Buddies will support your child's reading journey by sharing books and literacy-based games and activities together.
Math Buddies will help boost your child's confidence and comfort with numeracy and mathematical concepts and work together on math-based activities.
Sessions will take place in the Library, and schedules will be determined based on the Volunteer Buddy and child's caregiver availability.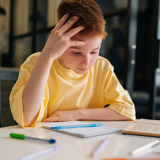 High School Student Volunteers
Give back to your community and earn your service hours while working with Library & Museums!
Sign up to be a Reading Buddy (in English or French) or Math Buddy today, and help children build confidence with their reading and numeracy skills through games and activities!
Contact Us
Clarington Library,
Museums & Archives
163 Church Street
Bowmanville, ON,
L1C 1T7